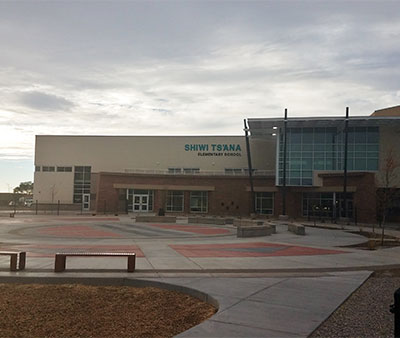 In 2014, the initial stages of construction began on the Zuni Public School District's new 47-classroom, 87,000 sq. ft., three-story Elementary School.
CamNet was selected as the Electronic Special Systems provider to configure and install the Special Systems solutions for this project. These systems included:
Genetec Video System of 26 cameras internal and external and a BCDVideo NVR.
Isonas IP-based Access Control system for 15 doors and an elevator to control access via proximity cards and to enable locking critical doors in an emergency.
Honeywell Intrusion Detection system for over 40 doors to secure the building during non-occupied hours.
RATH emergency communication system
Dukane Intercom and School Clock & Bell System to allow communications to and from each classroom and to broadcast announcements over the entire campus or to specifically defined zones.
Voice & Data Cat 6A cabling infrastructure for the entire school including the installation and certification over 700 Cat6A data drops and both Multimode and Single Mode fiber optic connections.